Household Storage Services In Bangalore - Self Storage Services
 Our Trans Cargo Packers and Movers In Bangalore storage facilities are equipped with state-of-the-art security systems and are regularly monitored to ensure the protection of your belongings. Our team takes the protection of sensitive and confidential items very seriously, and we use specialized packing materials to ensure their safety during storage. Whether you need short-term or long-term storage solutions, we have the right solution for you. 
Why Choose Our Household Self Storage Services In Bangalore:
Our storage units feature climate control for temperature-sensitive items.
We maintain 24/7 video surveillance using CCTV for added security.
Our warehouse is equipped with fire alarms to ensure the safety of your merchandise.
We use high-quality materials for packaging to protect your items during storage and transportation.
We offer insurance options for customers' household and business belongings.
Our carriers are specially designed to transport your goods safely and securely.
Only our employees are authorized to enter our Household warehouse, ensuring controlled access.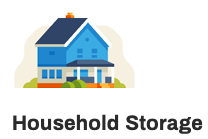 Frequently Asked Questions On Household Warehouse Storage Service In Bnaglore
Things You Should Do With Your home stuff before booking household storage facility in Bangalore
If you are planning to book a household storage facility in Bangalore, it's important to take some steps to prepare your belongings before storing them. Here are some things you should do with your home stuff before booking a household storage facility in Bangalore:
Sort and declutter: Before you start packing your belongings for storage, take the time to sort and declutter. This will help you identify items that you no longer need or want, and reduce the amount of stuff you need to store. You can sell, donate, or dispose of these items, depending on their condition.
Clean and dry: It's important to clean and dry your belongings before storing them. This will help prevent mold, mildew, and other damage. Wipe down your furniture, appliances, and other items with a clean cloth, and let them dry completely before packing them.
Label and organize: To make it easier to find your belongings when you need them, label and organize your boxes and containers. Use clear and descriptive labels, and group similar items together. This will help you avoid the need to dig through multiple boxes to find what you need.
Pack carefully: When packing your belongings for storage, use high-quality packing materials, such as bubble wrap, packing peanuts, and sturdy boxes. Wrap fragile items individually, and stack boxes and containers carefully to maximize space and prevent damage.
Consider climate control: If you are storing items that are sensitive to temperature and humidity, such as electronics, artwork, or antiques, consider choosing a storage facility that offers climate control. This will help protect your belongings from damage due to extreme temperatures or moisture.
Choose a reputable storage facility: Finally, make sure you choose a reputable and reliable storage facility. Read reviews, visit the facility in person, and ask questions about security, accessibility, and other important factors. This will help ensure that your belongings are safe and secure while in storage.
How to Save on Monthly Rent with Our Household Storage Services in Bangalore for Your Household Items
Consider downsizing your living space by renting a smaller apartment and storing some of your belongings in a storage unit. This can help you save on rent and other associated costs.
Store seasonal items such as holiday decorations and summer clothing in a storage unit to free up space in your home and avoid the need for a larger living space.
Save money by sharing a storage unit with a friend or family member who also needs storage space.
Look out for discounts and promotions offered by storage facilities for new customers, such as deals on move-in fees and monthly rent.
Opt for a long-term rental if you anticipate needing storage space for an extended period of time, as many facilities offer discounts for longer rental periods.
Compare prices and services offered by different storage facilities to find the best value for your money and choose a facility with competitive pricing.
Household Storage Services Charges For Bangalore
The prices for Household storage service services start from as low as Rs. 10,000 per month, and go up to Rs. 50,000 per month, depending on the size of the inventory and the complexity of the requirements.
Overall, Household storage services in Bnaglore offers competitive and transparent pricing plans for its storage services in Bangalore. Customers can choose a plan that best suits their needs and budget, and be assured of high-quality storage solutions that are secure, reliable, and cost-effective.
Distance 👉

Size 👇
100 Km - 500 km
500 Km - 800 Km
800 Km - 1200 Km
1200 Km - 1560 Km
1560 Km - 2100 Km
1 BHK (150 to 300 Cubic feet)
Rs 11,000 – Rs 20,000
Rs 12,000 – Rs 22,000
Rs 14,000 – Rs 23,000
Rs 16,000 – Rs 25,000
Rs 18,000 – Rs 28,000


2 BHK (400 to 700 Cubic feet)
Rs 12,000 – Rs 24,000
Rs 15,000 – Rs 27,000
Rs 17,000 – Rs 30,000
Rs 20,000 – Rs 33,000
Rs 23,000 – Rs 37,000


3 BHK (800 to 1200 Cubic feet)
Rs 16,200 – Rs 28,000
Rs 19,000 – Rs 32,000
Rs 20,000 – Rs 36,000
Rs 24,000 – Rs 39,000
Rs 28,000 – Rs 44,000


4-Wheeler (Car)
Rs 4,000 – Rs 7,000
Rs 5,500 – Rs 9,500
Rs 6,000 – Rs 10,800
Rs 8,000 – Rs 13,000
Rs 9,500 – Rs 15,000
Small Office
Rs 12,000 – Rs 26,000
Rs 17,000 – Rs 38,000
Rs 24,000 – Rs 47,000
Rs 26,000 – Rs 55,000
Rs 30,000 – Rs 60,000
Risk Factors included in Self Relocation
Moving to a new place can be exciting, but it can also come with its own set of risks. When it comes to self-relocation, there are several factors that you need to keep in mind to ensure a safe and stress-free move. If you are planning to relocate to Bangalore and are considering self-relocation, here are some of the risk factors you need to be aware of.
Physical Injuries:

Moving heavy furniture and boxes by yourself can be dangerous and lead to physical injuries, such as back strain, cuts, and bruises.

Damage to Furniture and Belongings:

When you move heavy items without professional help, there is a high risk of damaging your furniture and belongings. This can result in significant financial losses, especially if you have expensive or delicate items.

Lack of Experience and Expertise:

Professional packers and movers have years of experience and training, which allows them to handle the moving process efficiently and safely. If you have never relocated before, it can be difficult to know how to properly pack and move your belongings.

Unexpected Delays and Setbacks:

When you relocate by yourself, you are responsible for every aspect of the move. This includes loading and unloading the truck, driving, and navigating unfamiliar roads. Any unexpected setbacks, such as traffic, breakdowns, or weather-related issues, can significantly delay your move.

Insurance Coverage:

If you opt for self-relocation, you may not have the same level of insurance coverage as you would with a professional moving company. This can result in financial losses if your belongings are damaged or lost during the move.
In conclusion, self-relocation may seem like a cost-effective option, but it can come with several risk factors. If you want to ensure a safe and stress-free move, it is best to consider hiring professional packers and movers in Bangalore. They have the expertise and experience to handle every aspect of the moving process, reducing the risk of physical injuries, damage to your belongings, and unexpected delays.
Popular Locations in Bangalore
BTM Layout, Koramangala, Jayanagar, JP Nagar, Banashankari, Rajaji Nagar, Indira Nagar, RT Nagar, Marathahalli, Vijayanagar , HSR Layout, Basavanagudi, Basaveshwara Nagar, Whitefield, Domlur Banaswadi, Bommanahalli, Malleswaram, Kalyan Nagar, MG Road, Frazer Town, Electronic City, Yelahanka, New Town, Ramamurthy Nagar, Mathikere ,Krishnarajapura Nagarabhavi, Kasturi Nagar, Yelahanka, Hebbal, Vidyaranyapura, Chamrajpet, Bellandur ,Sanjay Nagar, Ashok Nagar, R.M.V. 2nd Stage Raja, Rajeshwari Nagar, Sudhama Nagar, Yeshwanthpur, Vasanth Nagar, Bannerghatta, HBR Layout, Jalahalli Richmond Town, Wilson Garden, Madiwala, Chandra Layout, Hoodi.
Household Storage Services In Bangalore Video